Blog Home
Pick Your Floorplan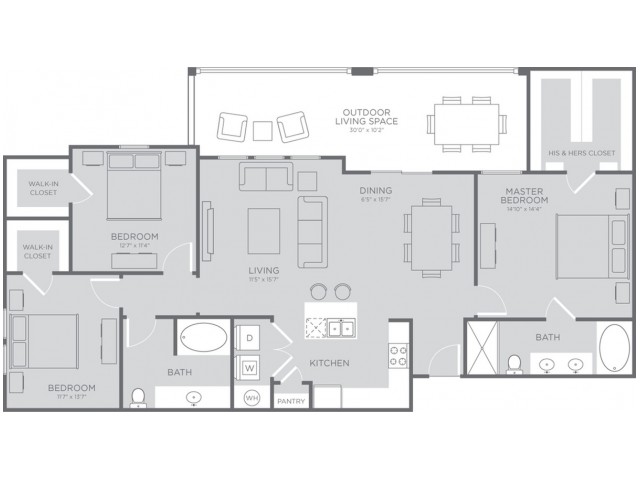 The Towers Seabrook Blog has some advice to help you pick the perfect floorplan for your new apartment. Before you decide whether or not to move in, you need to figure a few things out. How many bedrooms will you need? Are you looking for an open or a closed floorplan? How much storage will you need? How much space do you need to entertain? These are all things to consider before you finally settle on your new apartment.
Bedrooms
How many people will be living in your Seabrook, TX apartment? Will each person require their own bedroom? Are people okay with sharing? Do you require private bathrooms? Ask yourself these questions before you settle on a floor plan. Also remember to make sure that each bedroom has adequate storage for whoever will be living in it. You can check the square footage of each room at the Towers Seabrook by clicking on the pictures. The Towers Seabrook offers one, two, three, and four bedroom floorplans.
Open or Closed
A closed floor plan separates your living room, dining room, and kitchen into separate rooms. While a closed floor plan is best for privacy, it can also feel a little bit claustrophobic. Open floorplans clearly separate each space without closing off the room with walls. An open floor plan is perfect for entertaining — cooks in the kitchen won't have to sacrifice time away from their guests, and friends can help out with dinner! The Towers Seabrook features several great open floor plans.
Storage
Always make sure that you have adequate storage before you move into an apartment. Check your closets, pantry, and cabinets before moving in. The Towers Seabrook features walk-in closets and spacious pantries with built-in shelves. Remember to make sure that you've got enough room for your things (and some to spare).
Entertaining Space
Hold a party with friends in your new apartment! Of course, it's a lot easier to hold a party when you have enough space to hold a party. The Towers Seabrook feature large, open floor plans and expansive living, dining, and outdoor space.
Check out a floor plan at the Towers Seabrook today! Thanks for reading our post!